We are Hiring!
The Camera Culture Group is looking for outstanding people who can seamlessly work with an energetic team with cross-domain expertise. If you are talented and highly motivated about transitioning cutting edge medical imaging technology into a product, and you would like to make an impactful contribution, we would like you to join us.
Our team works constantly on hardware and software. We are looking to fill the positions below full-time for one year.
Research Scientist – Optical and Mechanical Engineer
Research Scientist – Computer Vision and Image Analysis
Postdocs
Graduate Students
Visiting Students




| | |
| --- | --- |
| NETRA: Cellphone-based Optometry Solution using Inverse Shack Hartmann Technique | CNN, BBC, NPR, NewScientist |
| Looking Around Corners using Transient Imaging (Marr Prize#2) | NYTimes, BBC, Economist |
| BiDi Screen: A Thin, Depth-Sensing LCD for 3D Interaction using Light Field Heterodyning | CNN, NewScientist, BBC |
| Bokode: A new optical tag ('barcode') using angular encoding and defocus based decoding | CNN, BBC, NPR |
---
---
NEW
Out of the Box, Science News, December 2011.
---
NEW
HR3D featured on Popular Science, November 2011.
---
NEW
New Approach to 3D Shown at SIGGRAPH, Display Daily, August 2011.
---
NEW
How the Lytro Light-Field Camera Works, Popular Mechanics, July 2011.
---
NEW
Next Generation: World's Smallest Camera, The Scientist, July 2011.
---
NEW
MIT prep high-def, glasses-free 3-D, EE Times, May 2011.
---
NEW
Hardware-only add-on lets phones shoot video in 3D, NewScientist, April 2011.
---
NEW
Ditch the glasses for lifelike 3D, NewScientist, October 2010.
---
NEW
Microsoft's body-sensing, button-busting controller, NewScientist, January 2010.
---
NEW
BIDI featured on CNN, Dec, 2010.
---
NEW
Going round the bend,The Economist, Dec 2010.
---
NEW
Laser camera takes photos around corners,BBC News, Nov 2010.
---
NEW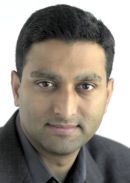 Raskar to keynote at the Stereoscopic Displays and Applications Conference, San Francisco, Jan, 2011.
---
NEW
Raskar at Kennedy Space Center, Launch.org by NASA, USAID Nov, 2010. (Video)
---
MIT develops smartphone-based eye exam,PRI World, Sept 2010.
---
Future on display: Long-lasting images save on power ,Newscientist, Aug 2010.
---
Simple, low-cost device that affixes to a cellphone could provide quick eye tests throughout the developing world

, MIT News, June 2010. [IDG Video] [ NewScientist] [ New York Times TechTalk] [ABC News ]
---
Photos of the future, The Independent, Feb 2010.
---
People Are The Network and Beyond the laws of Physics, Raskar at EmTech India, March 2010.
---
Hands off - A touchless touch-screen may soon reach the market, The Economist, Feb 2010.
---
Bokode added as technical neologism

, Wired Jargon Watch Dec 2009. Future of Barcodes, Optics and Photonics News, Jan 2010.
---
LCD screen can recognise what happens in front of it, New Scientist Dec 2009.
---
Post-doc Yun Hee Kim's Interview , Optical Society of America (OSA), 2009.
---
Computing with a wave of the hand: BIDI Screen, MIT News 2009.
---
Keynote Video:Prof. Raskar "Wishlist for Photography", 6Sight, Nov 2009.
---
Next-generation cameras bring photography tricks to the masses, Newscientist 2009
---
Photography Tomorrow, DIMAcast Podcast
---
Could tiny tags replace barcodes? (Bokode) BBC News, Other sources
---
Bokodes: Barcodes for the rest of us, MIT News
---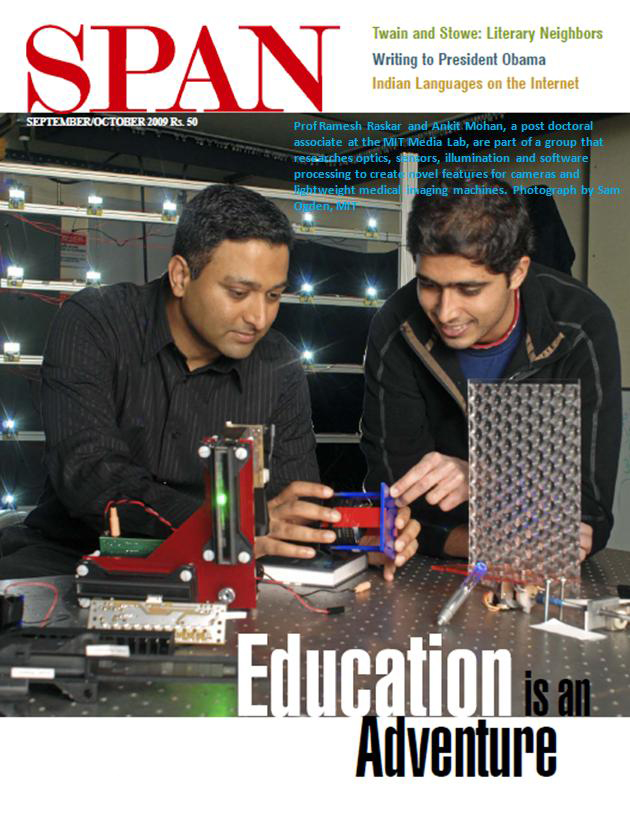 Ramesh Raskar and Ankit Mohan featured on SPAN magazine coverpage
---
Raskar to Keynote
6Sight Future of Imaging Conference 2009
---
MarketSaw: Future of 3D Movies
---
Second Skin for special effects Technology Review, 2009 [Slashdot]
---
Shakespeare For The New Camera Businessworld, 2009
---

One film, many versions The Telegraph, 2009
---
People are the new computers Rediff, 2009
---
Zooming into GenNext cameras Mail Today, 2009
---
Raskar named Sloan Research Fellow 2009
---
Outside the Box Ideas, 2009
---
Media Lab creates Center for Future Storytelling 2009
---
Computational Storytelling, MIT and Bollywood Livemint, 2008
---
6D Holograms Interact With Light Discovery channel, 2008
---
6D Displays, Photos with shifting shadows NewScientist, 2008 [Video]
---
6D Displays, super-realistic image system 2008 [Video]
---
Computational Photography American Scientist, 2008
---
The Future of Photography NewScientist, 2008
---
Fusion of Optical & Radio Freq Research Channel, 2007 [Video]
---
Epsilon to Coded Imaging Videolectures, 2008 [Video]
---
Ramesh Raskar's Faculty Profile SA+P, 2008
---
Computational Photography CG World Japan, 2006
---
Pocket Projector New York Times, 2004
---
Futuristic Film Technology Variety, 2009

---